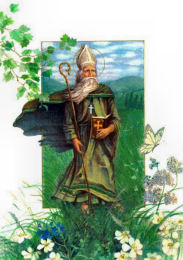 This day is not all about leprechauns, shamrocks and green beer. This is a day to honor and pray to
St. Patrick
. He was an influential saint who, 1,500 years ago, brought Christianity to the little country of Ireland. He was born about 385 in the British Isles, was carried off while still very young during a raid on Roman Britain by the Irish and sold as a slave. At the end of six years he contrived to escape to Europe, became a monk and was ordained; he then returned to Ireland to preach the Gospel. During the thirty years that his missionary labors continued he covered the Island with churches and monasteries; in 444 he founded the metropolitan see of Armagh.
St. Patrick
died in 461. After fifteen centuries he remains for all Irishmen the great bishop whom they venerate as their father in the Faith.
Today here in our house you will smell the cornbeef and cabbage cooking all day in the crockpot!
I am Scotch-Irish and this is a fun holiday for us.
Georgiann